What Apple iPhone Can and Can not Do
Last Revised on July 6, 2007
Love Your Health Money Family & Relationship
iPhone is a revolutionary new mobile phone that allows you to make a call by simply tapping a name or number in your address book, a favorites list, or a call log. It also automatically syncs all your contacts from a PC, Mac, or Internet service. And it lets you select and listen to voicemail messages in whatever order you want — just like email.
But here are the list of things that Apple iPhone can and can not do: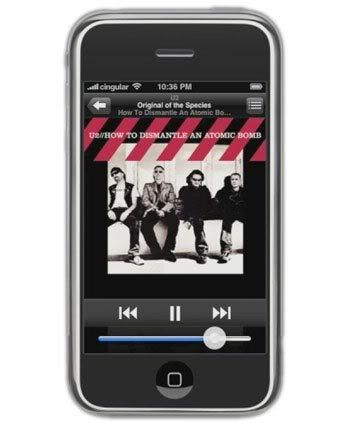 iPhone's 3.5-inch widescreen display allows you to easily enjoy the music, TV shows, and movies you have in your iTunes library. Through iTunes, you can create playlists of a few hundred of your favorite songs. You can also choose from 25 ring tones on the device,
You can't use your own music library for iPhone ringtones and there is no Video recording. No GPS capabity, only Google Maps. Although you can watch Youtube on iPhones, but you can't play games on it. Games sold in the iTunes store for the iPod are not compatible.
Making a call with iPhone is as simple as tapping a name. iPhone uses iTunes to sync and make email setup on iPhone a breeze by automatically.
There is no voice recognition or voice dialing features. You can't talk more than 300 minutes on Apple iPhone without recharging the battery. And the battery is not removable. You will miss the physical QWERTY keypad that we are so used to now. iPhones don't work on non standard POP3 and IMAP email system. No Instant Messaging (IM) capability.
Using its built-in calendar, iPhone lets you check your appointments with the flick of a finger. iPhone uses iTunes to sync with the calendar application you already use on your computer just like it does with your contacts.
You have to be using applications — iCal or Entourage on the Mac, or Outlook on a PC — to sync your computer calendar with the iPhone's. Otherwise, you'll have to manually enter your schedule date and times into the iPhone calendar.
iPhone can display rich HTML email with graphics and photos alongside the text. iPhone will even fetch your latest email every time you open the application and automatically retrieve your email on a set schedule, just like a computer does.
You can not edit any PDF, JPEG, Word, and Excel documents that you receive as an attachment. When composing messages, you can't cut and paste any text. I guess you have type all the messages up in that small keypad that is not physical and isn't arranged the QWERTY way. The text auto-correction doesn't work for proper names.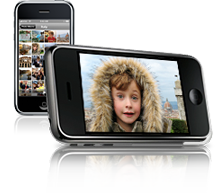 iPhone has a 2-megapixel camera and a gorgeous 3.5-inch display, so it's a great way to enjoy and show off your digital photos. You can carry thousands of photos on iPhone.
It lacks a flash and zoom feature and doesn't let you shoot video. Taking pictures is what some people call it a "tad awkward" task. It also lacks Picture Messages (MMS). The storage is not expandable.
IPhone has halfway decent internal speakers for listening if you set the thing down. The headset includes an integrated button to control iPod playback, or to answer and end phone calls. It also has a mic for calling purposes. Music pauses when a call comes in.
However, iPhones don't have one-size-fits-all headset jack. For certain headphones, you have to buy an adapter which kind of sucks. It lacks the stereo Bluetooth support and 3G compatibility.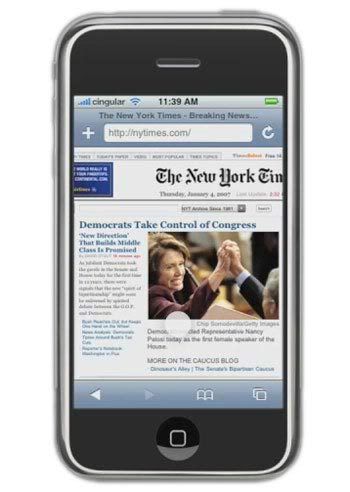 On a positive note, it has what you call it "smart sensors" that brings a change in the orientation of the screen from, lets say, landscape to portrait mode. iPhone is both Mac and PC compatible, although iPhone itself uses Safari web browser with a fantastic Web surfing experience while offering easy to use applications for average people. Apple iPhone cost $499 for 4 gigabyte version, $599 for 8GB, plus costs of monthly voice and data plan. Two-year commitment with AT&T is required.
You might also like to read: iPhone Theme and Plugin for WordPress: iWPhone 
As always, please feel free to leave suggestions, ask any questions for help or simply discuss the topic. We highly appreciate your involvement and input everyday. If find it helpful, please share it with your friends by using one of the buttons below.
2 Responses to "What Apple iPhone Can and Can not Do"
Lifesperspective Says:
July 2nd, 2007 at 11:02 pm

that's a good list that you've compiled there. Will be checking out on those that i've missed.

IntelliGenius.NET Says:
July 3rd, 2007 at 5:56 pm

Thank you. I would like to buy an iPhone by the end of this year.
Any Comments, Solutions, Questions, Reviews or Feedbacks You Have
You must be logged in to post a comment.