JohnChow Gets Bitch Slapped By Google
Last Revised on December 27, 2009
Love Your Health Money Family & Relationship
Probably you already know who John Chow is, but in case you don't know him here is a bit of a description -JohnChow is currently one of the top bloggers. His how-to-make-money online blog called JohChow.com gets a huge amount of traffic and his every post is always packed with comments. Most people who visits his blog seem to be blogging in the same niche of how-to-make-money-online. However, there seem to be many people who write comments in his blog just to get a backlink to their site from JohnChow's 6/10 page rank blog. The last time he put his blog stat was for the month of March 2007:
He writes, "Starting with just Google AdSense, John Chow dot Com made $352.94 in its first month as a moneymaking blog. In October, blog income jumped to $1,361.64 as I added more revenue sources. And it continued to go up: $2,139.93 in November, $2,790.05 in December, $3,440.66 in January and $7,011.05 last month."
His blog income kept rising along with the incoming traffic-"Blog traffic for March was 313,510 page views from 152,471 unique visitors, according to Google Analytics."
Then he soon started asking people to make a review about his blog and he will linkback. The only major rule was you had to insert his blog link in the review anchored with the text "make money online." So far it has been quite successful strategy for him and seems like nearly 900 blogs have done the review to get the backlink. How do I know this? Because he posts the linkbacks for these blogs in Batch #, and every Batch include 10 blog linkbacks. Recently he posted the Batch 87, so 10 times 87 is 870.
This inturn helped his blog show on top results for keywords like make money online, and I noticed that few days ago.
But now the things have changed. His blog doesn't rank anywhere near in the top Google search results for keywords like "make money online." For even his own name "john chow," his blog doesn't show in the top 100 Google search results at the least.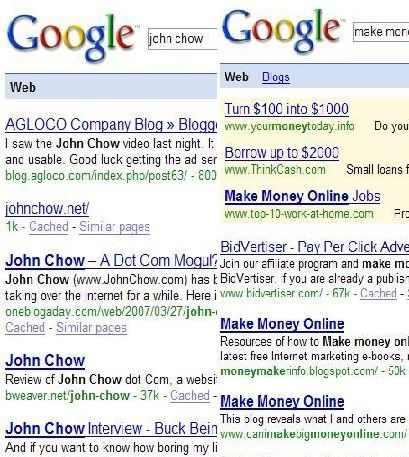 So what is going on? Well, the number one theory as of now is that Google penalized him for achieving links from other blogs artificially -meaning he asked them to link to his blog to get a backlink. This might be fine in most of the cases, but in his case he was getting links from nearly 900 blogs, among which some might not even have a darn reason for existence other than to boosting John's and maybe their own blogs linkbacks. There is also a strong possibility that Google banned JohnChow for trying to heavily emphasizing the same anchor text words such as johnchow and make money online, those of which he ask people to use as an anchor when linking to his blog.
As always, please feel free to leave suggestions, ask any questions for help or simply discuss the topic. We highly appreciate your involvement and input everyday. If find it helpful, please share it with your friends by using one of the buttons below.
One Response to "JohnChow Gets Bitch Slapped By Google"
Experience.forex.now Says:
June 27th, 2011 at 9:10 am

I am very interested in learning how to earn money online using forex and adsense. In fact I posted an article on adsense in forex blog. I want to learn how to rank in google with the new changes in their algorithms. You can visit my blog at http://experienceforexnow.blogspot.com. Feel free to leave tips on google seo. Thanks in advance.
Any Comments, Solutions, Questions, Reviews or Feedbacks You Have
You must be logged in to post a comment.