10 Blog Quotes You Might Like To Read
Last Revised on July 6, 2007
Love Your Health Money Family & Relationship
Here I have put together eleven famous quotes that I found on the web and hopefully, you will like it:
1. An ignorant person with a bad character is like an unarmed robber, but a learned person with a blog is a robber fully armed. – Mickey Kaus, Kaus Files
2. Link to your enemies. Link to your competitors. Link to everyone. Instead of being sticky, be linky. – Scoble, Israel, Naked Conversations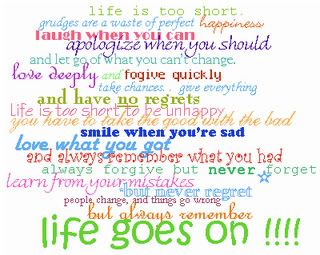 3. The first step in blogging is not writing them but reading them. – Jeff Jarvis, BuzzMachine,
4. If you aren't going to say something directly to someone's face, than don't use online as an opportunity to say it. It is this sense of bravery that people get when they are anonymous that gives the blogosphere a bad reputation. – Mena Trott, Times Online.
5. The evidence that things are changing fast can be seen in the dramatic increase in the influence of blogging. We should be collecting emails as we used to collect telephone numbers and using them to better communicate our message to key voters. Adam Rickitt, A British Actor
6. Don't blog what you don't own. – Lisa Williams, Bloggers In Love
7. Make sure you are the boss. I don't think I would encourage executives that work for me to blog. There can be only 1 public vision for an organization. – Mark Cuban, MLive
8. I try to be careful about wording. One of the things I've tried to combat in my blog is the notion that journalists are arrogant and unconcerned with the readership. Nicholas D. Kristof, New York Times
9. Under our Constitution, the high and the mighty will have to listen to the people and the blog is going to make that possible. – John Jay Hooker, Enterpreneur and Political
10. I definitely feel like my blog is going edgy to broad and boring. Joichi Ito, Joi.Ito
As always, please feel free to leave suggestions, ask any questions for help or simply discuss the topic. We highly appreciate your involvement and input everyday. If find it helpful, please share it with your friends by using one of the buttons below.
Any Comments, Solutions, Questions, Reviews or Feedbacks You Have
You must be logged in to post a comment.