Automatic No Touch Toilet Paper Dispenser Is Out Now
Last Revised on July 12, 2007
Love Your Health Money Family & Relationship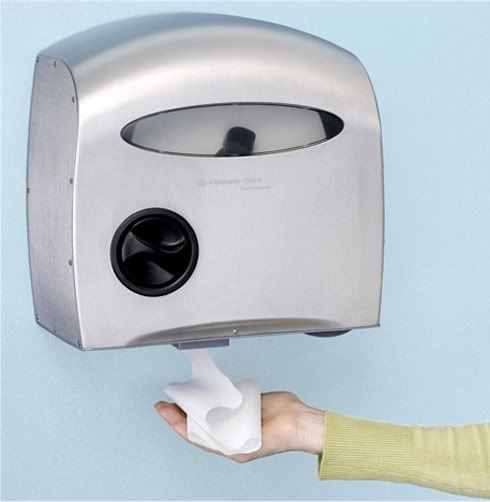 We have seen automatic sinks as well as no-touch soap and hand towel dispensers in public restrooms. But have you seen a no-touch toilet paper dispenser yet? No worry, it is time for that too now. This new toilet tissue dispenser will probably let us use 20 percent less toilet paper. It is trying to snatch away the $1 billion from the home toilet paper market. Kimberly Clark Professional has created an electronic toilet paper dispenser designed for public restrooms that dispenses only five sheets at a time. Their study found that on average Americans typically use twice as much toilet paper as Europeans — as much as an arm's length each pull. The company decided the best length is about 20 inches — or precisely five standard toilet paper squares, though the machine can also be adjusted to churn out 16 inches or 24 inches, depending on the demand.
To make the dispenser more secure, the machine isn't completely automated. Each comes with a suite of "security" features in case the machine malfunctions.There's an emergency feed button, and a manual feed roller that lets the users pull the roll around if the motor breaks down or the four D-size batteries run out. There's also an option for a "rescue roll" on one side of the machine just in case the old-fashioned way is preferred. The device also has LED indicator lights to let the janitorial staff know when the paper or the batteries are running low. The automated-no-touch-toilet-paper-dispenser cost about $30 apiece for the plastic variety, and $55 if cased in stainless steel.
As always, please feel free to leave suggestions, ask any questions for help or simply discuss the topic. We highly appreciate your involvement and input everyday. If find it helpful, please share it with your friends by using one of the buttons below.
One Response to "Automatic No Touch Toilet Paper Dispenser Is Out Now"
shaun Says:
July 13th, 2007 at 8:08 am

Haha excellent this is what I have always been waiting for! lol. Interesting article.
Any Comments, Solutions, Questions, Reviews or Feedbacks You Have
You must be logged in to post a comment.